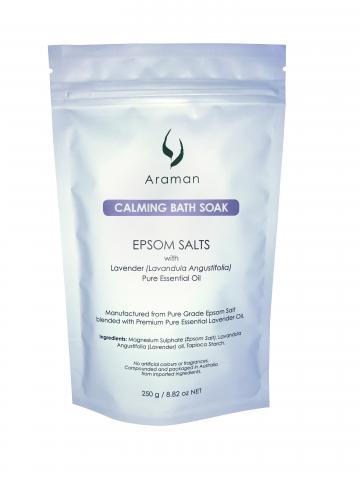 Epsom Salt is comprised of naturally occurring minerals, magnesium and sulphate. According to the Epsom Salt Council, magnesium assists in the regulation of more than 300 biological processes in the body and a deficiency can lead to health problems.
The benefits of Epsom Salt are well known. Research from Dr Rosemary Waring from Birmingham University, has indicated that magnesium and sulphate can be absorbed through the skin whilst soaking in an Epsom salt bath,
Lavender Angustifolia Pure Essential Oil is well known for its carminative and sedative properties. It has been the focus of many clinical trials and used as an alternative to orthodox drugs to help people sleep. In a study it was investigated using lavender oil in the bath on mothers and infants. It was identified that the infants "irritability and sleep problems could be calmed by this aroma and may experience a more restful sleep." (Field, Field, Cullen et al, 2008)
Try Araman's Calming bath soak, encompassing the benefits of pure Epsom Salt and 100% Pure Essential Lavender Oil in one convenient product.
This product uses the purest Epsom Salt grade and 100% Pure Essential Oil of premium distilled quality. The Epsom Salts combined with the Lavender Oil provide a calming and relaxing experience. No artificial colours or fragrances. It is compounded in Australia from imported ingredients. The Lavender Oil is encapsulated by the Tapioca starch in solid, powder form until it is ready for use.
Once the product is immersed in water, the starch then releases the oil which is dispersed into the warm water. The dissolved starch provides a softer feel to the water, enhancing your bath experience. Suitable for children from 3 years.
Reference
Field, T, Field T, Cullen, C, Largie, S, Diego, M, Schanberg, S, Kuhn, C. (2008) Lavender Bath Oil reduces stress and crying and enhances sleep in very young infants. Early Human Development, 2008, Pg 399-401.